KTC tools MAGNET HAND (HEAVY DUTY TYPE) VL2 HD
Seller

KANAZAWA KIKO CO.,LTD

Min. Order

1 Set/Sets

FOB Price

US $50-3000 /Case
Item Details
| | |
| --- | --- |
| Port: | osaka |
| Supply Ability: | 100 Case/Cases per Month |
| Payment Terms: | T/T,PayPal |
Product Description
KTC was established under the founding spirit of "To widely contribute to society through the production of light, durable, and comfortable tools" a half century ago. Since then, KTC has been leading the market by manufacturing high-quality products supported by KTC's unique technology. The Nepros Tools, which are KTC's top brand products at the World's highest quality level, are used for Formula One Racing, the highest class of automotive racing.
KTC's products includes on-board tools, special tools for automobile maintenance and a variety of industrial purposes, storage devices that achieve total improvement in work efficiency, and labor-saving devices that utilizes electricity, oil pressure, and pneumatic pressure, besides general-purpose tools trusted and used by professional mechanics. KTC has developed a wide range of more than 10,000 products, representing the highest number of products and overall production quantity in Japan. Our track record has won us the trust of our customers.
http://en.ktc.co.jp/
SKYPE ID: kanazawakiko.liu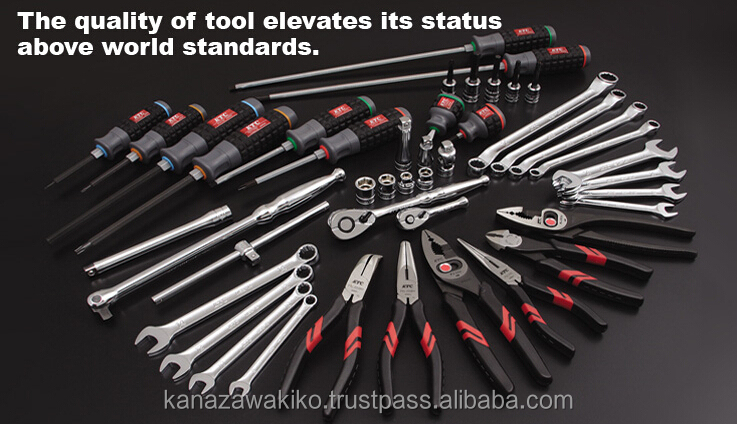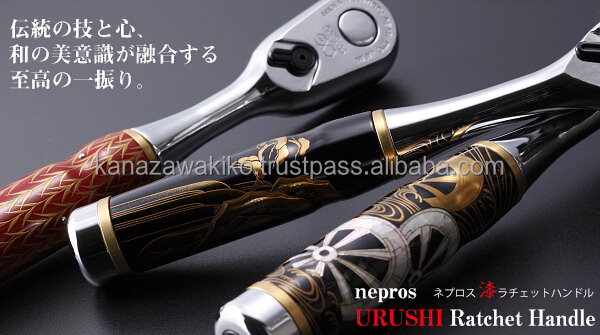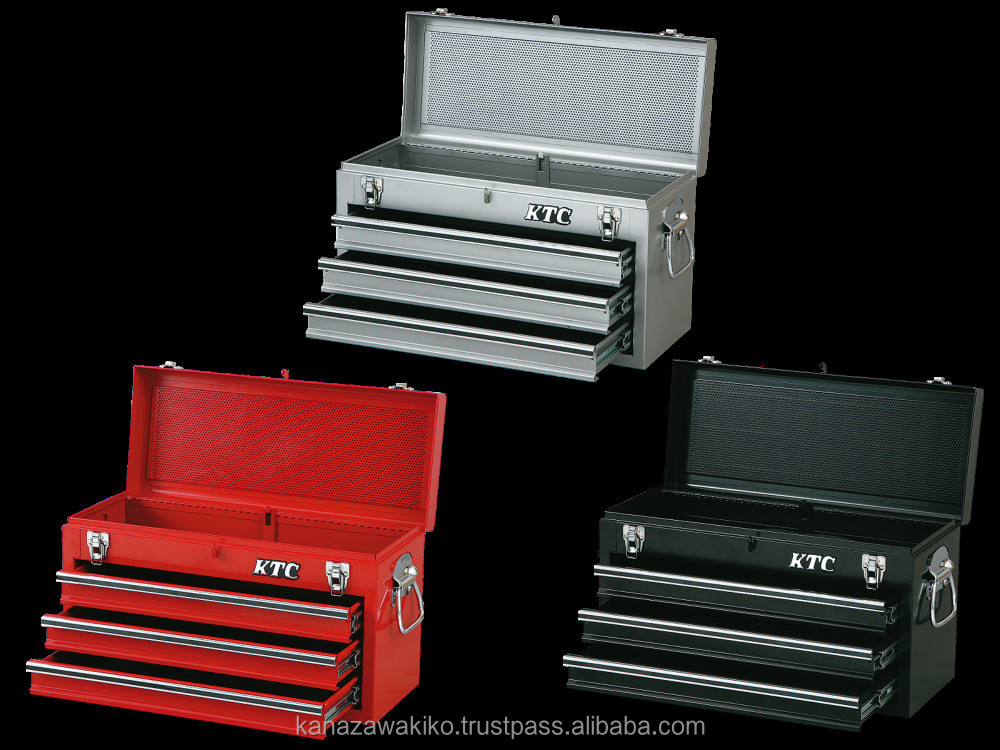 Product Description
Advanced digital torque tool "Digital Ratchet Interchangeble Head" NOW ON SALE
KTC released "Digital Ratchet Interchangeable Head" and "Interchangeable Head" as a new line-up of series of Advanced digital torque tool "Digital Ratchet."
Product Outline & Product Photos
Digital Ratchet Interchangeable Head" GEK040-X13, GEK085-X13
Digital Ratchet Interchangeable Head
GEK085-X13
Example Of Use(GEK040-X13+GX13-R2)
Comes with a special resin case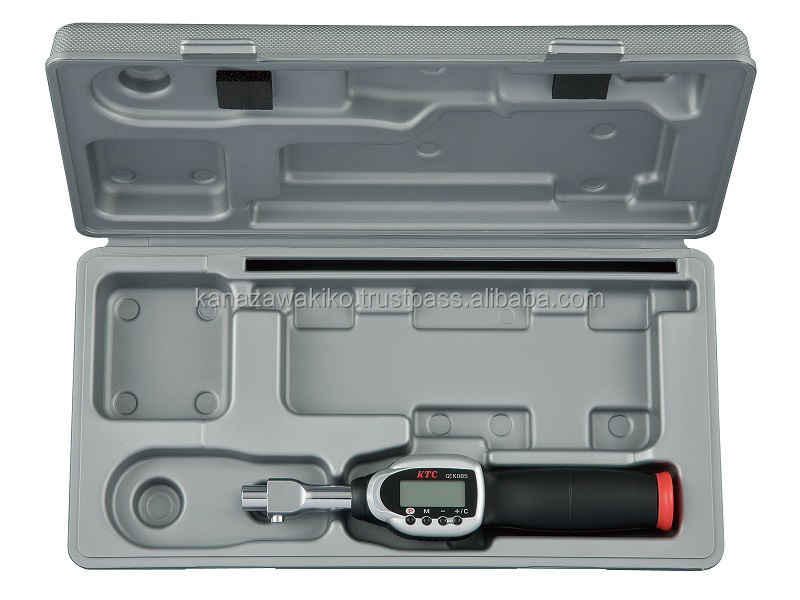 MOTO CLUB® SERIES RIDER'S MAINTENANCE TOOL SET
No. MCK317 1.8 1
3/8"sq. Semi-deep socket (hexagonal) B3M-08, 10, 12, 14
3/8"sq. Slide-head handle BHM3
3/8"sq. Extension bar BE3-150
3/8"sq. Hexagonal wrench HB20-4, 5, 6
Combination wrench MS2-08, 10, 12, 14, 17
Interchangeable driver set DB4 Cross (No.2, No.3)
Flat (head width 4.6)
Pliers PJ-150
Adjustable Wrench MW-200
Tool Bag (Black) MCKB-B (260×125×70mm when folded)
The socket will allow easy operation in areas where open end wrenches and offset
wrenches cannot reach.
• The drive tools employ a slide head handle and an extension bar for easy operation.
• The case can be folded down when traveling.
• The zipper prevents tools from falling out.
• By laying out the tool bag, it can be used as a replacement for tools/parts tray.
• Plenty of space (second stage pocket, etc.) for storing tools. E.g. Extra/spare parts, that
are not included in the set.
Convenient for storing extra tools and spare parts.
Insulated screwdrivers
METAL CASE
DIGI-PRO® SLIDE GAUGE MICROMETER DIGI-PRO® DEPTH GAUGE
• Long vernier for easy reading.
• Stepped surface for avoiding entry of dust, etc.
*Replacement parts are available.
• The measurement is displayed digitally in 0.1mm unit for easy reading.
• Four measurements are possible (inner & outer diameters, depth and step).
• A long vernier scale with zero point adjustment function is adopted.
*Battery cell replacements are available.
• Painted frame for rust resistance.
• Super hand alloy tip attached.
• With constant pressure device.
*Replacement parts are available.
TORQUE WRENCH ADJUSTABLE TYPE
Features
Because they are capable of setting torque value to be measured prior to
measurement, the preset torque wrenches are effective in successive
operations or operations in places where scale readout is difficult.
Accuracy
The unique preset mechanism can set the torque value to be measured easily and accurately in detail.
The preset value can be locked.
Ease of handling
The measurement scale is indicated in N-m scale in compliance with the SI (international standard). The scale is stamped so it does not fade out.
The operator is informed that the preset value is reached by the ratchet which changes angle at the neck.
The counterclockwise torque can be measured as well as the clockwise torque.
The head consists of a circular ratchet with a 60-tooth gear (having feed angle 6°), that is suitable for operations in tight paces.
Endurance
The main body is accommodated in a rugged plastic case which is suitable for protection and storage.
The handle grip is made of rubberized material which resists slippage and the effects of shock.
The entire mechanism is sealed to prevent penetration of dirt and dust, thereby reducing the possibility of malfunction.
AUTOMOTIVE MAINTENANCE ACCESSORIES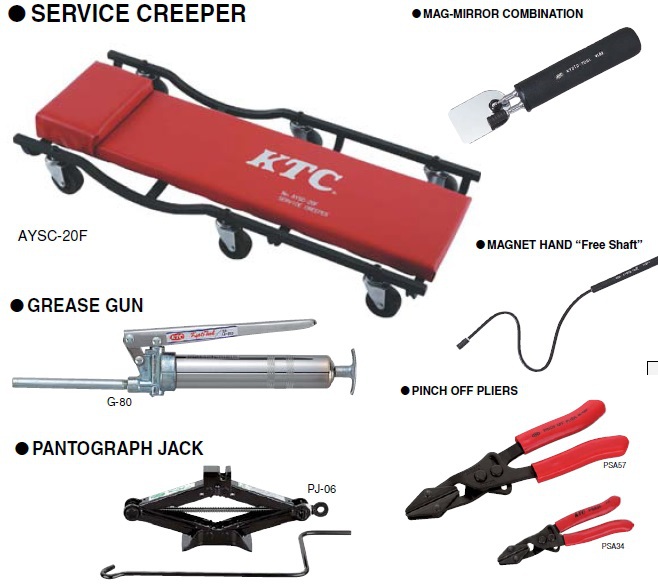 GREASE GUN
PANTOGRAPH JACK
MAGNET HAND "Free Shaft"
SERVICE CREEPER
PINCH OFF PLIERS
AUTOMOTIVE SPECIAL TOOLS Dismantling the Mechanism
Mechanism of Engine
Steering System Mechanism
AIR GREASE FEEDER
No. AVG35 30
Pump type Air-driven plunger pump
Size 460×360×1,190
Discharge 500g/min. on nozzle side (No.3 grease, 29°C, no load)
Discharge pressure 75~80kg / cm2
Air pressure 6~9.8kg / cm2
Grease type No.0~No.3
Can 16kg pail can
Temperature Condition 0~40°C
Usage
Dedicated equipment for feeding grease into tapered roller bearings during grease
exchange or supply for medium-to large-sized trucks.
Application
Bearings with cone side bores of 15 to 100 mm, hose side bores of 45 to 90 mm and
bearing pitches of 15 to 21 mm.
Features
• With the nozzle adapter, fresh grease pushes out old grease, without no need to remove
each bearing.
• Grease can also be fed into a removed bearing by installing it on the cone.
• Grease can be fed even at around-10°C by proper piston speed control operation.
• Foreign objects (such as moisture and dirt) in compressed air are filtered out by an air
filter, preventing air regulator operation failure.
• The built-in air regulator ensures air supply at optimal pressure.
• Easy operation and setup reduces work time.
• The carrier is equipped with a can stopper band and plate that prevents the grease can
from falling or being displaced.
| | | |
| --- | --- | --- |
| MECHANIC DESK SET | BELT WRENCH SET | CUTTER FOR FLEXIBLE STAINLESS PIPE |
| EASY BUGGY TOOL SET | BELT HOOK TOOL | TUBE CUTTER |
| TRUCK MECHANIC TOOL SET | BELT WRENCH | HOLDER FOR FV10 |
| MECHANIC KIT FOR AUTOMOBILE | CRANK PULLEY LOCK BOLT WRENCH | JOINT NUT WRENCH |
| MECHANIC KIT FOR INDUSTRIAL | CRANK PULLEY HOLDER | FLANGING TOOL |
| METAL CASE | SQUARE DRIVE LONG | PIPE BENDER (FOR STAINLESS FLEXIBLE PIPE) |
| HARD PLASTIC CASE | SQUARE DRIVE SHORT | MOBILE TOOL CART |
| FLEX SHORT RATCHET HANDLE | CRANK PULLEY HOLD PLATE | MOBILE TOOL CHEST |
| SEMI-DEEP SOCKET SET | CRANK PULLEY HOLD WRENCH FOR HONDA | ROLLER CABINET (7-DRAWER) |
| SEMI-DEEP SOCKET | ADAPTOR-A FOR AE702 | ROLLER CABINET (8-DRAWER) |
| TWIST SOCKET SET | CRANK PULLEY PULLER | SIDE SHELF |
| MAGNET DEEP SOCKET SET | CRANK PULLEY TOOL | ROLLER CABINET (14-DRAWER) |
| TWIST SOCKET | CRANK PULLEY TOOL SET | CABINET |
| COMPACT SHORT RATCHET HANDLE | CAM PULLEY LOCK TOOL | ROLLER CABINET (12-DRAWER) |
| COMPACT FLEX SHORT RATCHET HANDLE | CAM PULLEY HOLD WRENCH | ROLLER CABINET (5-DRAWER) |
| FLEX ROUND HEAD LONG RATCHET HANDLE | TRIPLE SQUARE (12P) WRENCH | CHEST (9-DRAWER) |
| ROUND HEAD LONG RATCHET HANDLE | WRENCH·SET | WAGON (3-LAYER) 1 LOCKER |
| ROUND HEAD SHORT RATCHET HANDLE | CARBURETOR SCREWDRIVER SET | WAGON (2-DRAWER) |
| RATCHET ADAPTOR | OIL PAN SEAL CUTTER | WAGON (3-DRAWER) |
| QUICK SPINNING ADAPTOR | CARBURETOR SCREWDRIVER | CHEST (3-DRAWER, Solid Black) |
| L SHAPE OFFSET HANDLE | NEW FLEX WRENCH (WITH MAGNET) | CHEST (3-DRAWER, Solid Red) |
| DRIVE SET | CLUTCH ALIGNING TOOL | CHEST (3-DRAWER, Metallic Silver) |
| IMPACT SOCKET(SEMI-LONG) | NEW FLEX EXTENSION WRENCH | CHEST (2-DRAWER) |
| RINGS | ENGINE HANGER | CHEST (3-DRAWER) |
| IMPACT SOCKET FOR UNIVERSAL JOINT | HEX. BIT SOCKET DRAIN PLUG WRENCH | TOOL BOX |
| NUT | PILOT BEARING & BUSH PULLER | SIDE PUNCHING BOARD |
| IMPACT USE | DRAIN PLUG SOCKET | OPTION FOR TOOL STATION |
| IMPACT HEX. WRENCH | BALL BEARING PULLER SET | EASY BUGGY CASE |
| IMPACT T-TYPE TORX WRENCH | DRAIN PLUG SOCKET SET | MECHANIC DESK CASE |
| HEX BIT SOCKET | CLUTCH ALIGNING TOOL SET | WORK TRUCK CASE |
| HEX BIT SOCKET SET | SIDE SLIP BOARD | WAGON |
| SHORT HEX. BIT SOCKET SET | SIDE SLIP BOARD SET | MECHANIC CASE |
| SHORT HEX. BIT SOCKET | TIE ROD LOCK WRENCH | SPLIT OPEN PLASTIC TOOL CASE |
| KEY WRENCH SET | STEP BOARD | METAL CASE (SPLIT OPEN) |
| WRENCH SET | SNAP RING PLIERS FOR HUBS | SPLIT OPEN METAL CASE |
| KEY WRENCH | REPLACEMENT PARTS: POINTED CLAWS | STAINLESS CASE |
| WRENCH | MULTI PULLER | OPEN TOP METAL CASE |
| L SHAPE HEXAGON KEY WRENCH SET | CLAW FOR "AS202A" | OPEN TOP PLASTIC CASE |
| HEXAGON KEY WRENCH | JAW FOR "AS202A" | METAL CASE (SINGLE DOOR) |
| T SHAPE HEXAGON KEY WRENCH | PITMAN ARM PULLER | HEAVY TOOL CABINET KCH TYPE |
| FOLDING HEX-KEY WRENCH | BALL JOINT SEPARATOR | MAPLE WORK BENCH WITH DRAWER |
| PLASTIC GRIP BALL POINT HEX. DRIVER | TIE ROD END SEPARATOR | MAPLE WORK BENCH DRAWER |
| PLASTIC GRIP HEX. DRIVER SET | DRIVE SHAFT REMOVER FOR SLIDE HAMMER | BOTTOM SHELF |
| OIL SERVICE STATION SET (SYSTEM-F FULL SET) | LOCK NUT CHISEL | TOOL WAGON |
| PLASTIC GRIP HEX. DRIVER | SLIDE HAMMER PULLER ATTACHMENT | MIDDLE CLASS TOOL CABINET TBN TYPE |
| REPLACEMENT LONG BALL POINT HEX. BIT | BOOT BAND CUTTER | LIGHT TOOL CABINET PA TYPE |
| REPLACEMENT BIT SOCKET (CROSS & FLAT) | CENTER BOLT FOR AS30 | CABINET (OPEN TYPE) |
| REPLACEMENT HEX. BIT SOCKET (LONG) | HUB PULLER FOR SLIDE HAMMER | CABINET (SLIDING DOOR TYPE) |
| REPLACEMENT HEX. BIT SOCKET (SHORT) | EXTERNAL SNAP RING PLIERS CLAW SET | CABINET (SPLIT OPEN TYPE) |
| REPLACEMENT HEX. BIT SOCKET (STANDARD) | GREASE EXCHANGER "HIGHLOAD" | SYSTEM CABINET |
| REPLACEMENT HEX. BIT SOCKET (STUBBY) | GREASE EXCHANGER | TRAY CABINET |
| T-TYPE SHORT TORX BIT SOCKET SET | SUPPLY FOR AVG35 | TOOL STATION® SET |
| LONG T-TYPE TORX BIT SOCKET SET | AIR GREASE FEEDER | OFFSET WRENCH SET |
| T-TYPE TORX L HANDLE WRENCH SET | STRUT SPRING COMPRESSOR | LONG OFFSET WRENCH SET |
| LONG T-TYPE TORX BIT SOCKET | STRUT SPRING COMPRESSOR (BODY) | OPEN END WRENCH |
| T-TYPE TORX L HANDLE WRENCH | CLIP CONNECTOR FOR TIRE AIR GAUGE | T SHAPE HANDLE |
| T-TYPE TORX BIT SOCKET | DOUBLE CONNECTOR FOR TIRE AIR GAUGE | T SHAPE WRENCH |
| T-TYPE TORX DRIVER | WHEEL CAP WRENCH | EXCHANGEABLE T SHAPE WRENCH SET |
| E-TYPE TORX WRENCH | WHEEL | HANDLE |
| T-TYPE TORX DRIVER SET | HUB CAP PLIERS | MOTORCYCLE TOOL STATION® SET |
| E-TYPE TORX LONG BOX END WRENCH | BRAKE SERVICE TOOL SET | PLASTIC GRIP LONG SCREWDRIVER |
| TAMPER RESISTANT FASTENERS | SCREWDRIVER FOR BRAKE DRUM SCREW | PLASTIC GRIP SCREWDRIVER SET |
| RESISTANT FASTENERS | TENSION SPRING TOOL | PLASTIC GRIP STUBBY SCREWDRIVER |
| TAMPER RESISTANT FASTENERS (LONG) | DUO-SERVO TYPE BRAKE SPRING TOOL | PALM THIN BLADE SCREWDRIVER |
| TAMPER RESISTANT FASTENERS (SHORT) | SHOE-HOLD SPRING CAP TOOL | DELUXE SCREWDRIVER |
| TAMPER RESISTANT FASTENERS (STANDARD) | PARKING SHOE LEVER TOOL | PLASTIC GRIP SCREWDRIVER |
| FLAT TYPE EXTRA-LONG OFFSET WRENCH SET | SPARE CLAW FOR BRAKE SPRING PLIERS | WOODEN GRIP SCREWDRIVER |
| FLAT TYPE LONG OFFSET WRENCH SET | SPARE PAPER SET FOR BRAKET SANDER | INTERCHANGEABLE SCREWDRIVER SET |
| FLAT TYPE EXTRA-LONG OFFSET WRENCH | RUBBER WHEEL FOR BRACKET SANDER | SOFT GRIP SCREWDRIVER |
| FLAT TYPE LONG OFFSET WRENCH | BRAKE SPRING PLIERS | SOFT ROUND SCREWDRIVER |
| LONG OFFSET WRENCH | BRACKET SANDER SET | LONG STUBBY SCREWDRIVER SET |
| SHORT OFFSET WRENCH | C-WASHER TOOL | COMBINATION PLIERS |
| SHORT OFFSET WRENCH SET | T-SHAPED DRUM REMOVER | COMBINATION HAMMER |
| OFFSET WRENCH | DISC BRAKE PISTON TOOL | PLASTIC HAMMER |
| SHORT RATCHET BOX END WRENCH SET | DISC-BRAKE SPREADER | SHEET METAL PROCESSING HAMMER |
| FLAT TYPE SHORT OFFSET WRENCH SET | DISC CYLINDER POLISHER | WHEEL NUT TORQUE WRENCH SET |
| FLAT TYPE SHORT OFFSET WRENCH | SEAL PICK TOOL | MECHANIC TOOL SET |
| HEX OFFSET WRENCH | DISK PARKING TOOL SET | DIGI-PRO® DEPTH GAUGE |
| HEX OFFSET WRENCH SET | ROTOR | ANGULAR TORQUE GAUGE |
| 4SIZE LONG RATCHET BOZEND WRENCH | BRAKE CYLINDER POLISHER | TIRE AIR GAUGE |
| 4SIZE STANDARD RATCHET BOZEND WRENCH | BRAKE PIPE TOOL | IMPACT WRENCH (COMPOSITE TYPE) |
| RATCHET OFFSET WRENCH | BRAKE CYLINDER POLISHER SET | OIL DRAINER |
| FLEX RATCHET OFFSET WRENCH HEAD | BRAKE PIPE TOOL SET | CUP TYPE OIL FILTER CARTRIDGE WRENCH |
| RATCHET OFFSET WRENCH SET | FLEX FLARE NUT WRENCH | CYLINDER HEAD BOLT SOCKET |
| OPEN END WRENCH SET | PIPE | CYLINDER HEAD BOLT SOCKET SET |
| HOLDER | FLARE NUT WRENCH | CERAMIC SCRAPER |
| SLIM TYPE OPEN END WRENCH SET | FLARE NUT WRENCH SET | SLIDE HAMMER PULLER |
| SLIM TYPE OPEN END WRENCH | BLEEDER WRENCH SET | BOOTS BAND TOOL |
| FLEX-HEAD SOCKET SET | BLEEDER PLUG WRENCH | TIRE VALVE WRENCH |
| COMBINATION WRENCH SET | BRAKE SHOE ADJUSTER TOOL SET | INSULATION TOOL SET |
| FLEXIBLE HEAD SOCKET | BRAKE SHOE ADJUSTER TOOL | PROTECLOTH |
| FLEXIBLE SOCKET SPANNER | BLEEDER WRENCH | COURTESY LAMP SWITCH STOPPER |
| FLEXIBLE SOCKET SPANNER SET | BRAKE BLEEDER SET | MAGNET HAND |
| COMBINATION WRENCH | BRAKE BLEEDER | CHEST (5-DRAWER) |
| PROFIT TOOL® OPEN END WRENCH SET | ATTACHMENT FOR BRAKE BLEEDER | CHEST (6-DRAWER) |
| PROFIT TOOL® OPEN END WRENCH | SUPER LONG PLUG WRENCH | TOOL STATION |
| PROFIT TOOL® COMBINATION WRENCH SET | UNIVERSAL SPARK PLUG WRENCH | SOCKET WRENCH SET |
| PROFIT TOOL® OFFSET WRENCH SET | FLEX T SHAPE SPARK PLUG WRENCH | SOCKET (STANDARD) |
| PROFIT TOOL® COMBINATION WRENCH | COMPACT SPARK PLUG WRENCH SET | DEEP SOCKET WRENCH SET |
| PROFIT TOOL® OFFSET WRENCH | COMPACT SPARK PLUG WRENCH | DEEP SOCKET SET |
| FLEXIBLE T SHAPE WRENCH (LONG) | PLUG WRENCH | REPAIR KIT FOR RATCHET HEAD |
| SPEEDING CROSS WRENCH | ARMATURE BEARING PULLER | LONG SPINNER HANDLE |
| FLEXIBLE T SHAPE WRENCH | CONNECTOR TOOL SET | DEEP SOCKET |
| HUB NUT WRENCH (WITH BAR) | CONNECTOR COUPLING TOOL | FLEX RATCHET HANDLE |
| HUB NUT WRENCH | HEADLIGHT ADJUST WRENCH | SHORT RATCHET HANDLE |
| CROSS RIM WRENCH | BELT REPLACEMENT | FLEX LONG RATCHET HANDLE |
| FLOOR VAN | SENSOR SOCKET SET | RATCHET HANDLE (GRIP TYPE) |
| TIRE WRENCH | OIL PRESSURE SOCKET | ROUND HEAD RATCHET HANDLE |
| PALM SCREWDRIVER SET | O2 SENSOR SOCKET | EXTENSION BAR |
| PALM SCREWDRIVER | THERMO SENSOR SOCKET | SPINNER HANDLE (STANDARD) |
| HEAVY DUTY SCREWDRIVER | BATTERY CATCHER (WITH RUBBER PAD) | SLIDE HEAD HANDLE |
| MINI STUBBY SCREWDRIVER | OIL PRESSURE SOCKET SET | SCREWDRIVER TYPE HANDLE |
| SHORT STUBBY SCREWDRIVER | INSULATION TORQUE WRENCH | QUICK SPINNER |
| ANTI-SLIP SCREWDRIVER SET | SLIDE HAMMER PULLER ATTACHMENT SET | FLEXIBLE EXTENSION BAR |
| STUBBY SCREWDRIVER | BODY COMPASS | WOBBLE EXTENSION BAR |
| SCREWDRIVER BIT SET | FIBER SHEET | UNIVERSAL JOINT |
| BABY SCREWDRIVER | SLIDE HAMMER PULLER ATTACHMENT HOOK | SOCKET ADAPTOR |
| SCREWDRIVER SET | CONVERTING ADAPTOR | SOCKET HOLDER |
| IMPACT SCREWDRIVER SET | REPLACEMENT PUNCH for "UDP-4" | SOCKET SET |
| NUT DRIVER | BODY PANEL EDGEWAYS CHISEL | LONG DEEP SOCKET SET |
| INSULATED SCREWDRIVER SET | FLAT CHISEL | RATCHET HEAD REPAIR KIT |
| INSULATED SCREWDRIVER | AUTO PUNCH | SPARK PLUG WRENCH |
| SOFT GRIP SCREWDRIVER GIFT SET | DOOR STOPPER | RATCHET HANDLE |
| SOFT GRIP SCREWDRIVER SET | DOOR·GATE STOPPER | RATCHET HANDLE(COMPACT TYPE) |
| SOFT STUBBY SCREWDRIVER | GATE STOPPER | SPINNER HANDLE HEAD REPAIR KIT |
| HEAVY DUTY WATERPUMP PLIERS | ADJUSTABLE TWEEZERS | SPEEDER HANDLE |
| INTERNAL SNAP RING PLIERS | CORNER POLE NUT WRENCH | HEAD |
| INTERNAL LONG SNAP RING PLIERS | CLIP CLAMP PLIERS | FLEX BALL JOINT |
| WATERPUMP PLIERS | CLIP CLAMP TOOL SET | SOCKET HOLDER CLIP SET |
| HANDLE-END) | HANDY REMOVER SET | WHEEL NUT SOCKET |
| BENT INTERNAL LONG SNAP RING PLIERS | HANDY REMOVER | LONG WHEEL NUT SOCKET |
| FLAT TYPE EXTERNAL SNAP ROMG PLIRES | WIPER ARM REMOVER | SOCKET FOR ALUMINIUM WHEEL |
| BENT EXTERNAL SNAP RING PLIERS | CLIP CLAMP PLIERS SET | EXTRA-LONG SPINNER HANDLE |
| BENT INTERNAL SNAP RING PLIERS | DOOR HINGE BOLT WRENCH SET | BAR |
| EXTERNAL LONG SNAP RING PLIERS | DOOR HINGE BOLT RATCHET WRENCH | STUD BOLT REMOVER SET |
| EXTERNAL SNAP RING PLIERS | DOOR HINGE BOLT WRENCH | STUD REMOVER |
| LONG PLIERS SERIES | SLIP RESISTANCE PAD FOR AP502 | L SHAPE HANDLE |
| SPARE TIPS FOR SNAPRING PLIERS | SPRAY HANGER | IMPACT SOCKET (SEMI-DEEP) |
| RING PLIERS | TILTING SPRAY HANGER | IMPACT SOCKET (LONG) |
| SIDE CUTTING PLIERS (COATED HANDLE) | OPTION FOR TILTING SPRAY HANGER | IMPACT ADAPTOR |
| SIDE CUTTING PLIERS | HOUSING NUT WRENCH | IMPACT EXTENSION BAR |
| LONG HOSE PLIERS SERIES | CENTRE BOLT FOR REAR HUB PULLER | IMPACT SOCKET (STANDARD) |
| NEEDDLE NOSE PLIERS (BENT NOSE TYPE) | SPACER FOR REAR HUB PULLER | IMPACT SOCKET (WITH PIN & RING) |
| NEEDDLE NOSE PLIERS (LONG TYPE) | CHAIN TYPE OIL FILTER WRENCH | IMPACT SOCKET (DEEP) |
| NEEDDLE NOSE PLIERS (STANDARD TYPE) | FRONT HUB PULLER | HIGH MECHANIC TOOL SET |
| DIAGONAL CUTTING PLIERS | REAR HUB PULLER | IMPACT UNIVERSAL JOINT |
| PLATE TYPE CUTTER | CENTRE BOLT FOR AS354 | ALUMINIUM SOCKET SET FOR POLISHED NUT |
| END CUTTING PLIERS | STAINLESS SCRAPER SET | IMPACT LONG ADAPTOR |
| ALL PURPOSE SHEARS | CERAMIC & STAINLESS SCRAPER SET | IMPACT INNER SOCKET |
| NULTICATIVE SIDE CUTTING PLIERS | STAINLESS SCRAPER | IMPACT HEX. WRENCH SET |
| ANGLE CUTTER | HIGH CLASS SCRAPER | IMPACT T-TYPE TORX WRENCH SET |
| SPARE BLADE FOR BOLT CLIPPER | SPARE BLADE FOR STICKER SCRAPER | 21C.VERSION TOOLS |
| BOLT CLIPPER | STICKER SCRAPER | CROSS·FLAT BIT SOCKET |
| MINI CLIPPER | SET | LONG HEX. BIT SOCKET |
| LONG NOSE LOCKING PLIERS (WIRE CUTTER) | NOZZLE FOR GREASE GUN CHUCK TYPE | LONG HEX. BIT SOCKET SET |
| LOCKING PLIERS-CURVED JAW | GREASE GUN CARTRIDGE TYPE (400cc) | LONG BALL POINT HEX. BIT SOCKET |
| LOCKING PLIERS-STRAIGHT JAW | NOZZLE FOR GREASE GUN STRAIGHT | HEX. BIT SOCKET SET |
| LOCKING PLIERS (WIRE CUTTER) | HANDLE FOR PANTOGRAPH JACK | HEX. BIT SOCKET |
| SWIVEL PAD CLAMP | GREASE GUN | HEXAGON KEY WRENCH SET |
| LOCKING PLIERS-LARGE JAW | PANTOGRAPH JACK | HEX-KEY WRENCH SET |
| LOCKING C-CLAMP | TYPE | HEX-KEY WRENCH |
| WIDE C-CLAMP | MAGNET HAND (HEAVY DUTY TYPE) | T-TYPE TORX BIT SOCKET SET |
| PANEL CLAMP | HAND PICKER | T-TYPE LONG TORX BIT SOCKET SET |
| WELDING CLAMP | MAGNET HAND & CHECK MIRROR SET | E-TYPE TORX WRENCH SET |
| REPLACEMENT FOR VISE GRIPS, SCREW | MAG-MIRROR TRIAL SET | ASSEMBLY PARTS FOR GREASE EXCHANGER "HIGHLOAD" |
| REPLACEMENT FOR VISE GRIPS, SPRING | MAG-MIRROR COMBINATION | OIL SERVICE STATION WAGON (SYSTEM-B· BASIC |
| LOCKING CHAIN CLAMP | CHECK MIRROR | T-TYPE TORX L HANDLE WRENCH SET FOR |
| SHEET METAL TOOL | MAG-MIRROR SET | HIGH GRADE L SHAPE LONG HEXAGON KEY |
| OPTION CHAIN | ROLLING WEDGE BAR | HANDLE FOR HUB NUT WRENCH FOR LOW |
| SNIP(STRAIGHT LEFT CUTTING) | HANDY BAR LONG | IMPACT SOCKET (LONG) SET FOR WHEEL NUT |
| SNIP(STRAIGHT RIGHT CUTTING) | HANDY BAR MINI | PIN & RING FOR IMPACT SOCKET OF |
| SNIP(STRAIGHT WIDE CURVES CUTTING) | HANDY BAR SHORT | OPTIONAL TOOL SET FOR THE SPLIT OPEN |
| REPLACEMENT HEAD (FOR UD7-10) | FENDER COVER | OIL SERVICE STATION WAGON (UNIT + POCKET) |
| REPLACEMENT HEAD (FOR UD8-10) | SERVICE CREEPER | HIGH GRADE L SHAPE LONG BALL POINT |
| BALL-PEEN HAMMER | ACCESSORY FOR AIR BLOW GUN | HIGH GRADE L SHAPE STANDARD BALL POINT |
| SHOCK-LESS HAMMER REPLACEMENT HEAD for "UD1-10A" | AIR BLOW GUN | IMPACT SOCKET (DEEP) WITH PINS & RINGS |
| SHOCK-LESS HAMMER REPLACEMENT HEAD for "UD1-10B" | GARAGE LIGHT | HARD METAL AND & HARD STEEL SCRAPER |
| COPPER HAMMER REPLACEMENT HEAD for "UD2-10" | BULB | PLASTIC GRIP BALL POINT HEX. DRIVER SET |
| PLASTIC HAMMER REPLACEMENT HEAD FOR "UD3-10" | WATERPROOF ABRASIVE PAPER | LONG BALL POINT HEX. BIT SOCKET SET |
| COMPONENT HAMMER | ENGINEER'S FILE (WOODEN HANDLE) | E-TYPE TORX LONG BOX END WRENCH SET |
| COPPER HAMMER | SMALL FILE | OIL SERVICE STATION SET (SYSTEM-S STANDARD |
| RUBBER HAMMER | ABRASIVE PAPER | T-TYPE TORX BIT SOCKET SET FOR TAMPER |
| SHOCK-LESS HAMMER | KNOCK PIN PUNCH | LONG T-TYPE TORX BIT SOCKET FOR TAMPER |
| MINI HAMMER SET | KNOCK PIN PUNCH SET | HUB NUT WRENCH FOR LOW FLOOR VAN |
| HEAD SET (FOR TUD3S) | CENTER PUNCH | L SHAPE LONG BALL POINT HEX-KEY WRENCH |
| DOUBLE-HEAD HAMMER | CHUCKING RUBBER | SUPPLY PIN (ø9) FOR HOUSING NUT WRENCH |
| MINI HAMMER | BRUSH | RATCHET PIPE CUTTER FOR COPPER AND |
| TEST HAMMER | CHISEL | CYLINDER HEAD BOLT & FLY-WHEEL BOLT |
| ALUMINIUM PIPE WRENCH | SUPPLY FOR TEH1SM | CLAW FOOT OFFSET WRENCH FOR BRAKE |
| ADJUSTABLE WRENCH | SAFETY GLASSES | PROFIT TOOL® WRENCH & OPEN END |
| PIPE WRENCH | SAFETY GOGGLE | SHORT T-TYPE TORX BIT SOCKET FOR |
| GEAR PULLER | WRENCH RACK | T-TYPE TORX L HANDLE WRENCH FOR |
| TORQUE WRENCH DIAL TYPE | DISPOSABLE RESPIRATOR | STRAIGHT CONNECTOR FOR TIRE AIR GAUGE |
| TORQUE WRENCH ADJUSTABLE TYPE | MAGNETIC PARTS TRAY | FLEX ROUND HEAD SHORT RATCHET HANDLE |
| DIGITAL RATCHET | STAINLESS PARTS TRAY | T SHAPE WRENCH WITH SHORT HANDLE |
| DIGITAL ADJUSTABLE WRENCH | OPTION FOR YKPT-20 | HIGH GRADE L SHAPE STANDARD HEXAGON |
| SLIDE GAUGE | STAINLESS PARTS TRAY SET | NOZZLE FOR GREASE GUN HYDRO HOSE |
| MICROMETER | PARTS TRAY | SUPPLY PIN (ø6.5) FOR HOUSING NUT |
| THICKNESS GAUGE | BRAKE & PARTS CLEANER | HANDLE (OFFSET TYPE) FOR FREE POSITION |
| FLUID TESTER | ORANGE CLEANER | SHORT T-TYPE TORX BIT SOCKET SET |
| CORDLESS IMPACT WRENCH | LOCTITE | T-TYPE TORX DRIVER SET FOR TAMPER |
| BATTERY PACK FOR JAE401 | PRIMER | T-TYPE TORX BIT SOCKET FOR TAMPER |
| IMPACT WRENCH (SMALL) | TOOL BAG | MAPLE WORK BENCH DRAWER FLAT TYPE302 |
| ULTRA LIGHT IMPACT WRENCH | TOOL SET | MAPLE WORK BENCH WITH DRAWER WITH |
| IMPACT WRENCH (LARGE) | VALVE SPRING COMPRESSOR | HOLDER FOR STANDARD OPEN END WRENCH |
| AOR TOOL OIL | SUPPLY FOR MCCU14 | IMPACT SOCKET (SEMI-DEEP)WITH PINS & |
| AIR HOSE | DRIVE CHAIN TOOL SET | CENTER CAP WRENCH FOR ALUMINUM |
| MINI-TYPE MINI-RATCHET | SPARK PLUG WRENCH (SHORT TYPE) | REPLACEMENT T-TYPE TORX BIT FOR |
| AIR RATCHET WRENCH | MAGNET FLY-WHEEL PULLER | WHEEL NUT COMBINATION SOCKET FOR |
| OIL FILTER CARTRIDGE WRENCH | ROTOR PULLER SET | HANDLE (STRAIGHT TYPE) FOR FREE |
| CHAIN TYPE CARTRIDGE WRENCH | ROTOR PULLER | MOTO CLUB SERIES RIDER'S MAINTENANCE |
| CORE PLUG ADAPTOR | WIRE TWISTER | COMPACT ROUND HEAD SHORT RATCHET |
| COOLANT CHARGER | TIRE LEVER | SLIDE HAMMER PULLER SCREW SIZE |
| SPARE TANK | NIPPLE WRENCH | EXTENSION SOCKET FOR COMPACT SPARK |
| HOSE CLIP PLIERS | RATCHET PIPE CUTTER FOR LARGE SIZE | T-TYPE TORX DRIVER FOR TAMPER |
| HOSE CLIP TOOL FOR MINI-VEHICLES | RATCHET PIPE CUTTER | IMPACT COMBINATION SOCKET FOR WHEEL |
| RADIATOR HOSE PLUCKER | MINI RATCHET TUBE CUTTER | STRUT SPRING COMPRESSOR (LARGE.AM) |
| RADIATOR HOSE PLUCKER SET | RESIN PIPE | STRUT SPRING COMPRESSOR (STANDARDAM) |
| POSITION WRENCH SET | SPARE PARTS FOR FLEX TUBE CUTTER | DOUBLE FLEXIBLE RATCHET OFFSET |
| FREE POSITION WRENCH | FLEX TUBE CUTTER | INSERT CHANGEABLE FLAT RATCHET |
| FREE POSITION WRENCH SET | TUBING TOOL SET | WATERPUMP PLIERS (WITH SLOTTED |
| BELT TENSIONED WRENCH | SPARE BLADE FOR TUBE CUTTER | RATCHET HANDLE (STANDARD) |
| | | INTERNAL-EXTERNAL CONVERTIBLE SNAP |